Promo Item of the Moment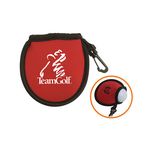 Golf Ball Cleaning Pouch
The ideal item for the pro or the prolific golf client. This pocket sized neoprene like cleaning pouch will keep things tidy from tee to green. To easily clean golf balls, just add a little water to t...
$1.95 - $2.25
Kurey has a brand new site in 2014!

We are excited to bring you a new site with super easy product searching and better drill downs than ever before.
Just hover your mouse over a category on left - like AWARDS & RECOGNITION and you'll see categories fly out - and hover again over one of those and you'll see choices of glass, metal, wood, etc.
Promotional Products Work!
We know that promotional products help you build client loyalty. Everyone needs to stretch ad budgets. Logo products allow you to order just what you need. Products that match your branding, your audience, your event.
Kurey Company helps you select the best items to meet your objectives. Kurey delivers smart logo product solutions on-budget and on-time.