Promo Item of the Moment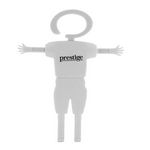 Buddy
Hang it to charge your phone. Hang it in your car while you drive. Hang it anywhere to listen to music. Hang it on your screen for multiple use. Hang it on your jeans! Holds your cell phone, GPS devic...
$3.99 - $5.00
How do you navigate through zillions of items?
Lots of our clients want us to find what's right for them, saving them time and money. We know the best resources for each item and how to accomplish your branding.

However if you like to shop, we are excited to bring you super easy product searching and better drill downs than ever before.
Just hover your mouse over a category on left - like AWARDS & RECOGNITION and you'll see categories fly out - and hover again over one of those and you'll see choices of glass, metal, wood, etc.
Promotional Products Work!
We know that promotional products help you build client loyalty. Everyone needs to stretch ad budgets. Logo products allow you to order just what you need. Products that match your branding, your audience, your event.
Kurey Company helps you select the best items to meet your objectives. Kurey delivers smart logo product solutions on-budget and on-time.
Apparel | Made in USA | RUSH